IVSI in Hong Kong
2014 – Awards for top journalists in Hong Kong and Macao
Local media representatives were involved in the initiative SalumiAmo® in 2013. The deli meat products including their characteristics and quality attributes were presented on newspapers and TV programs, helping IVSI to spread the culture of the Italian cold cuts during the period of SalumiAmo® Hong Kong. Some of those journalists were awarded on 14th October 2014 with the honour of "Reporter del Gusto" to highlight their precious publishing work, which helped the consumer to get to know, learn about and appreciate our deli meat products. The following journalists were awarded in the international section: Mark Isaac Hammons, Tasting Kitchen; Yin Wa Chan, U Magazine; Grace Yan Yan Pang, Oriental Daily; Paulo Jorge Lopes Coutinho, Macau Daily Times; Li Hui, Phoenix TV (who sent a video message of acknowledge for not being able to participate in the ceremony in Italy). A special award was also given to the newspaper The Sun.
2013 – SalumiAmo® Hong Kong
The IVSI organized a series of events for private consumers. Employing a multilevel promotional program which included ´Aperitivi´ to offer a real and authentic experience of the Italian aperitiv including a guided tasting of PDO (Protected Designation of Origin) and PGI (Protected Geographical Indication) during the happy hour time, which represents a real ritual among young people in Italy. SalumiAmo® Hong Kong was organized by IVSI and the Italian Trade Agency – ICE (www.italtrade.com/hongkong) to bring a touch of Italian class to the East.
<
>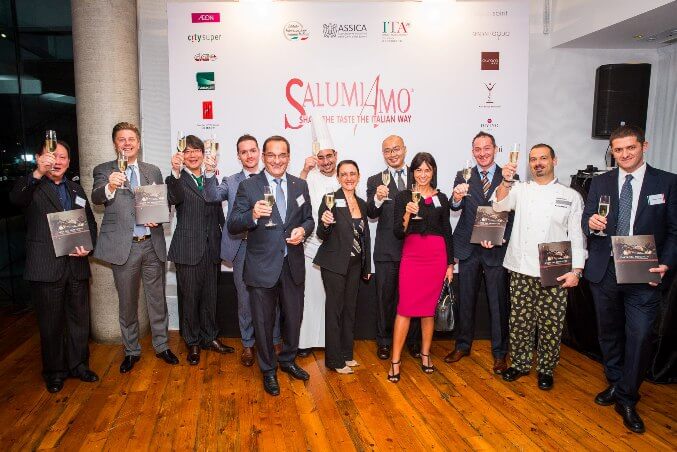 Events and promotions
The promotional program in Hong Kong and Macao consisted in numereous events and initiatives: three weeks of promotions in restaurants and selected venues, commercial promotions for the wholesale and trainings of the specifications of Italian deli meat products in numerous professional cooking schools in Hong Kong (VTC – Istituto di Formazione professionale, www.vtc.edu.hk) and Macao (IFT – Istituto per il Turismo Studies, www.ift.edu.mo). During the promotional week Italian deli meats were offered in free tastings in a setting of a real Italian aperitiv. The taste of high end cold cuts brought the public straight to the hills of the production zones of the Italian deli meat products, the plains of the North of Italy and into the Southern parts where these culinary specialities are produced.
<
>
The students of the cooking schools and the professional chefs participated in specific lectures in Hong Kong and Macao held by the Italian chef Fabio Ugoletti to educate on the history of our cold cuts, the traditions, the production processes and their use in the kitchen. The chef created a characteristic Italian menu for the opening evening with traditional and modern courses. Furthermore the chef has been charged to guide the head chefs of the involved restaurants to guarantee a real Italian experience for their guests. Some big food stores were involved in commercial promotions to popularize the deli meat products. All points of sale with guest contact received brochures and information material on the Italian cold cuts.
Download the 'SalumiAmo Hong Kong' brochure
<
>