IVSI in the United States
2005 – Fancy Food in San Francisco and New York
In January 2005 IVSI organized the participation at the Winter Fancy Food fair in San Francisco and in July 2005 at the Summer Fancy Food fair in New York, important advertising platforms overseas. At the exposition booth of the IVSI positioned within the show room for Italy managed by the Italian Trade Agency – ICE, participating visitors got the possibility to taste deli meat products already approved for the export into the US. A brochure-recipe book and a screening of a short film in English informed the fair visitors about the quality of the "made in Italy".
<
>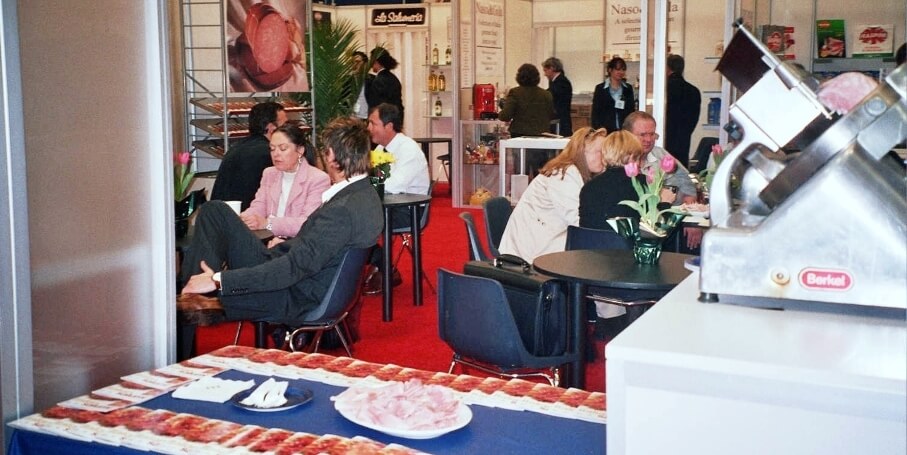 2003-2004 – Market research and campaign "The taste of Italian Style"
In 2003 an important and segmented market research was conducted in the USA divided into a first phase of desk research and a second phase of poll, consulting both the trade and the consumers. The aim of the research was to get an idea of the US market for deli meat products, consumer profiles, their food purchasing behaviour, sales, trade channels and contemporaneously gather information on characteristics, size and potential of the US market for deli meat products in general as well as for Italian cold cuts.
In 2004 the IVSI participated in a promotional program of the Italian agri-food sector, promoted by the agency ICE (Italian Trade Agency) in the US with the participation of ASSITOL (Italian Association of Nutritional Oil Industry), the Consortium of Balsamic Vinegar of Modena, the Consortium of Grana Padano cheese and of the Consortium of dry-cured ham of San Daniele. The program included the publicity campaign "The taste of Italian Style" which paired the excellence of Italian food with the "Italian design" (the second supporting element of "Made in Italy"), a realization of a brochure-recipe book, an event for journalists at the Executive Dining Room of Condé Nast in Times Square, tasting events "Design Italian Style" in New York, Boston and San Francisco, promotions at restaurants in New York and Fort Lauderdale in collaboration with the magazine Saveur and culinary weeks at Whole Foods Market, Grace´s Marketplace and Citarella Gourmet Market in New York.
<
>